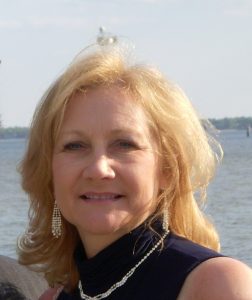 Esther Marie Muzzillo passed away unexpectedly on Monday, December 5, 2022 at the age of 65. She was born in Cleveland, Ohio and was preceded in death by her parents, Chester and Gertrude Greene.

She was a dedicated mother to five children, amazing YaYa to nine grandchildren, and devoted partner to her significant other of 20 years, Todd Wallace.

Her nickname "Sunshine" resembles who she was to those around her. She knew just how to make someone's day a little brighter. 

Esther loved spending time in her garden and could turn a yard of dirt into a landscape of beauty and color. She enjoyed kayaking, made many memories on the water, and was always up for an adventure. Esther was the hostess with the mostest and we will miss her decorated cookies, one-of-kind birthday cakes, and homemade apple pies. Most of all she enjoyed spending time with her family and leaves us a lasting legacy of love.

Esther will be deeply missed by everyone who had the pleasure of knowing her. She is survived by her five children, Vanessa (Les) Edwards, Barbara Muzzillo, Theresa (Greg W) Muzzillo, Greg (Yesica) Muzzillo, and Anthony (Selena) Muzzillo; nine grandchildren, Aedrey, Yestin, Luke, Aiden, Liam, CeCe, Jaxon, Maddie, and Gianna; and her loving partner, Todd Wallace.

The warmth of our "Sunshine" will forever shine bright. There will be a Celebration of Life on Saturday, January 14, 2023 for family and close friends.
Memorial donations in honor of Esther can be made to the American Heart Association.