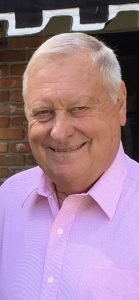 Lawrence Henry McGary, "Larry," went to be with the Lord on Monday, December 12th, 2022. He was born August 10, 1938,and raised in Maryville, Missouri, to the late Dennis James McGary and Agnes T. McGary. Larry and his family farmed dairy and beef cattle, chickens, pigs, and rows of crops on 200 acres of land.
He graduated from the Jones College School of Business in Jacksonville, Florida. After graduation, he moved to Fort Myers, Florida, where he met his beautiful bride, Patricia Springer. She would remain his devoted wife for 60 years. Together they creatively worked on local and state beauty pageants and were actively involved with Edison Pageant of Light parades. They remained faithful parishioners of the Church of the Resurrection Catholic Church for 30 years.
Larry was store manager and regional director with Gibson's, Sam Solomon, and Service Merchandise from 1978 until the late 1990s. Soon after his successful career with retail management, he owned and operated a Penske Truck Rental business in Fort Myers, Cape Coral, and Punta Gorda, FL.
Upon retirement in 2007, he and Patricia moved to Lexington, South Carolina, to be near his daughter and grandchildren.  Nothing brought Larry more joy and pride than his eight grandchildren. Whether it was a quick game of P-I-G or H-O-R-S-E, run to Dairy Queen, sit-down for an inspirational chat, or garden and plant annuals, he always found time for his little gems.
Larry was preceded in death by his brother, Edmond D. McGary, brother Eldon L. McGary, sister Mary M. McGary, and brother W. A. McGary.
Larry is survived by his beloved wife Patricia Springer McGary, son Scott Michael McGary (Lisa) of Signal Mountain, TN, daughter Dawn McGary Chamblee (Donald) of Denver, NC, and son Sean Patrick McGary (Amanda) of Thompson's Station, TN, and his eight loving grandchildren, Ali Taylor McGary, Alex Michael McGary, Russell Vance Chamblee, Jade Catherine Chamblee, Norah Dawn Chamblee, Stella Patrice Chamblee, Riley Auveen McGary, and Finnpatrick Christoph McGary. 
His funeral mass will be celebrated on Thursday, December 22, 2022, at 11:00am at Holy Spirit Catholic Church in Denver, NC.
The family is welcoming friends for a celebration and luncheon immediately following the mass at the McGary home: 2960 Weatherfield Drive, Lincolnton N.C.
Memorials can be made to the Holy Spirit Catholic Church in Denver, NC, American Cancer Society in Charlotte, NC, or the charity of your choice.  
The Interment of Ashes will take place on Fort Myers Beach, Florida.