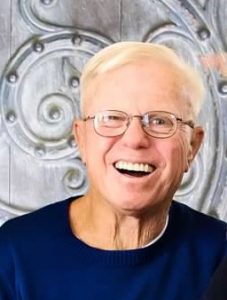 On the Fourth of December, 2022 longtime Fallbrook resident, Paul H. Schaden, passed away at his home in Denver, NC in the presence of his wife and children after a long battle with Alzheimer's disease.  He was 81.
Paul was born September 24, 1941 in Sacramento, CA, the first-born son of Harold and Margaret Schaden.  After graduating with a degree in Fire Science from Sacramento City College in the early 1960's, Paul moved to southern California where he became a seasonal firefighter with the California Division of Forestry, today's CalFire.  Around this time, Paul also joined the Air Force Reserve eventually rising to the rank of Technical Sergeant. 
In 1970, Paul met and soon married Evelyn Texanna "Tex" Morgan, who would remain his devoted wife for the next 52 years.  Soon thereafter, Paul was promoted to Captain in the CDF and transferred to the San Diego Ranger Unit first to the Red Mountain and then De Luz forest fire station in Fallbrook, where Paul and Tex settled down and started their family.  The birth of their first daughter Wendy in 1972 was followed in quick succession by son Doug in 1974 and daughter Stephanie in 1977. 
Also in the early 1970's, Paul left the Air Force to further his military career in the California Army National Guard, receiving his commission from then Governor Ronald Reagan. 
Civic responsibility and public service were among Paul's core principles.  As such, Paul was a member of many service organizations including the Kiwanis Club, Knights of Columbus and Toastmasters.  Paul was an Elk and a Moose.  He served on the Central Committee of the San Diego County Republican Party, was twice elected to the Fallbrook Union Elementary School District and served multiple terms on the Fallbrook Community Planning Group.  After his retirement from the CDF, Paul served on the board of the North County Fire Protection District and as a Station Captain for the De Luz Volunteer Fire Department, maintaining his long relationship with the De Luz community. 
In early 1995, after 35 years in the Armed Forces Paul retired from the United States Army Reserve with the rank of Major.  Paul was a proud "Mustang"- the term for a commissioned officer who started their career as an enlisted man. 
In October of 1995 while on duty with the CDF, Paul suffered a massive stroke which was to challenge him for the rest of his life.  Being told he may never walk again, Paul displayed his indominable spirit, famous tenacity and indefatigable work ethic and was ambling about with the aide of a cane within just a few months.  Though he struggled with partial paralysis and aphasia, which affected his speech, his mind remained sharp, his dignity and example never suffered and his service to his community remained tantamount to his recovery. 
After Paul's Alzheimer diagnosis, Tex made the decision to move to North Carolina to be close to Stephanie and her family who could provide the emotional and logistical support that Paul would need in his final years. 
Paul is survived by his wife Tex, daughters Wendy (Uly) and Stephanie (Michael) and son Doug and his four grandchildren Sam, Joe, Claire and Morgan.  His sister Carolsue (Ted) and brother Allan (Sue) and various cousins, nieces and nephews. 
His funeral mass will be celebrated on Friday December 9, 2022 at 11:00AM at Holy Spirit Catholic Church in Denver, North Carolina. A wake in Fallbrook and inurnment in Sacramento will take place at a later date. 
If you are so moved, please make a donation in Paul's name to the Boys and Girls Club of Fallbrook Foundation.