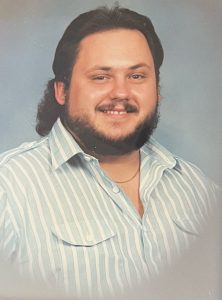 Tony Lewis Lynn, "Boss", passed away on April 3, 2023, at The Greens Residential Home around 11:30 that morning. He was born September 18th, 1962 in Lincolnton, NC, to parents David W. Lynn Sr., and Shirley Martin.
In addition to his parents, Tony is preceded in death by his youngest brother, Shane Lynn.

He is survived by his two children; Dakota Lynn and his wife Donna, and Taylor Figueroa and her wife Celina. Grandchildren; Elizabeth, Gabriel, and MacKenzie; Tony also is survived by his younger brother David Lynn Jr. and his wife Suzanne. Also two nieces and two nephews.

Per Tony's request, there will be no services; but his ashes are to be spread in Cherokee, NC by his two children and his brother.
Thank you to all the friends and family that came to visit with him in his final weeks. He loved you all.
"Jeremiah was a bullfrog."