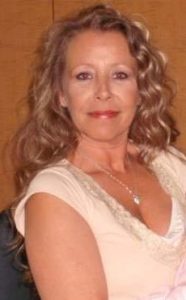 On March 25, 2023, God called Tammy Lynn Shepard Mashburn 57 of Dallas, NC home surrounded by her loved ones, after a hard battle with cancer. 
Tammy was born January 23, 1966, in Smyth County VA. to Lois Noel and David Shepard.
Tammy grew up in Stanley, NC and attended Springfield Elementary, Kiser Elementary, Stanley Jr. High and East Gaston High school. 
Tammy loved God and speaking his word. She loved her family, friends, drawing, fishing, guarding, Jimmy Swaggart, SBN and watching the grit channel with her mother.
Tammy is preceded in death by her grandson little Mike, her grandparents Lena and Frank Shepard, her father, her uncles, aunts, cousins and friends.
Tammy is survived by, her son Cory (Brittany) Mashburn her daughter Casey (Mike) Carver, her grandchildren Kayla, Cheyenne, Andrew, Johnathon, Nicole, Ace and Caden.  mother Lois Shepard Reep, brother Jeff Shepard, sister Pam Shepard, stepsister and brothers Josie, JoJo and Jr. Reep ( Jackie). Three nieces Danielle, Torie and Lena. 1 great niece KaLia, 5 great nephews Brandon, Zalynn, Lyric, Lukas and Mikey. her aunts, cousins and dear friends.
A Celebration of Life will be held on April 16, 2023 from 2pm-4pm at 847 Alexis High Shoals Rd. Dallas, NC. 28034.  The family would like to thank everyone for the love, prayers, and donations. We are forever grateful God bless you all