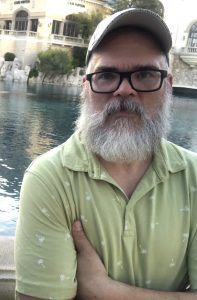 Timothy Michael Duncan, age 55, passed away unexpectedly on March 16, 2022. He was born in Spartanburg, SC.
He is survived by his significant other of 14 years, Karen Burnett of Denver, NC and faithful companion, Rio, a son, Matthew Michael Duncan of Spartanburg, SC, a daughter Emilee Anne Duncan of Greenville, SC, his parents Michael and Debby Duncan of Boiling Springs, SC, Jane and John Woodle of Eastville, VA, brother Patrick Neil Duncan of Hananah, SC, and uncle, David Reid Duncan of Boiling Springs, SC. He was predeceased in death by his grandparents Robert and Beatrice Duncan and Odell and Dora Pruitt of Spartanburg, SC.
Tim graduated from Boiling Springs High School, Boiling Springs, SC. He took classes at USC Spartanburg and Spartanburg Technical College for classes in AUTOCAD Curriculum. He had certifications as a Swimming Pool & Spa Operator, State of North Carolina. At one time he was a certified Journeyman in the State of South Carolina. He was a Maintenance Facilities Technician in the Racing Industry.  
Tim liked to camp at Julian Price Campground, go hiking in the mountains, ride the Blue Ridge Parkway, and visitCherokee and Maggie Valley. He had a passion for sleuthing in search of gems and minerals. He would go the gems shows/museums to see what gems and minerals had been found by others.
He was a walking encyclopedia. He knew things that other people had not ever heard of. When asked how he knew that information, he would tell you that his mind was full of useless knowledge.
Tim loved animals and had a soft spot for the underdog. He would bottle feed kittens trying to save them when found without a mother. He loved Classic Rock.  
Tim was a private man that would help anyone if asked. He will be truly missed.
In lieu of flowers, please donate in his memory to the American Diabetes Association, American Heart Association, and American Stroke Association.