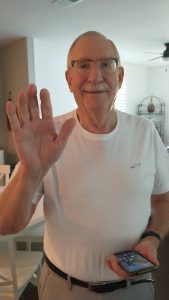 Terry W Thompson born on June 13, 1940, passed away Sunday October 16, 2022. Terry was the son of Willard Harris and Doris Marie Hollingshead of Flushing Michigan.
He was a Navy Veteran that is survived by his wife Carol, son Michael (and Denise) Thompson, daughter Jodi (and Dave) Hicks, daughter Tennille Rogers, brother Alan (and Debbie) Thompson, sister Lynne (and Woody) Mannisto, 6 grandchildren and 2 great grandchildren.
Terry was an avid hunter, fisherman, bird watcher, reader, McDonalds aficionado, and he was a banker in his spare time until he retired. Master of puns, food stealer extraordinaire, and jokester by nature, he was always the life of any family get-together.
Visitation will take place on Thursday, October 20, 2022 from 3:00PM-5:00PM with a Celebration of Life Service beginning at 4:00PM at The Good Samaritan Funeral Home 3362 North Highway 16 Denver, NC 28037. 

 The family would like to thank all of the friends, neighbors and caregivers that have been so kind during our time of sorrow.

In lieu of flowers, donations can be made to the Tunnel to Towers Foundation.

Thank you again for all of your loving support as we celebrate the life of this incredible man!