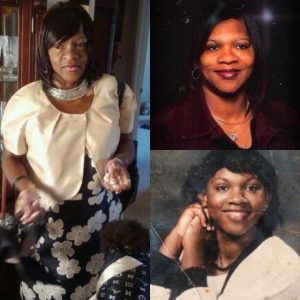 Tammie Loretta Baxter Woods of Hickory, NC passed away on May 5, 2023 at the age of 57.
Tammie was born on July 5, 1965 in Lincolnton, NC to Essie Baxter and James Baxter.

Tammie attended Lincoln County schools. She loved to look out for others, and showed love to everyone she met. Tammie was loved for always telling people how it is, telling them off, all while in the same sentence telling them she loved them. She was a great cook, loved to sing, and dance.

Left to cherish her memory is her Husband Garrett, daughter TaMera(Renard), Son Tyreece, Grandson Oj, three great grandchildren Raylen, Kaylin, and Charleigh, Sister Gwendolyn, Brother Jerome.
She is preceded in death by her daughter Theressa, Grandmother Helen, Mother Essie, Father James, Step father Jimmy, Sister Cynthia and Brother James, and a host of nieces, nephews, cousins & friends.
A Going Home Service and Visitation will be held on Wednesday, May 10, 2023 at 1:00PM at New Hope Baptist Church 5186 Hope Road Vale, NC 28168.