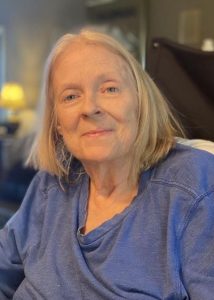 Donna Morehead Foushee, 71, of Sherrills Ford, NC. passed away at her residence on Saturday, April 29, 2023. Born on October 5, 1951 in Roanoke, Virginia, she was the daughter of the late James Donald and Jacqueline Carr Morehead.
Donna was a Supervisor for a Freight Forwarding Company in Greensboro,  NC prior to her retirement.
Donna enjoyed reading, boat riding and an avid animal lover especially cats. 
Donna is survived by her loving husband of 26 years, John V. Foushee Jr.; sister Joni Morehead Draughn and her brother-in-law Mike Draughn of Myrtle Beach, SC.; nieces Taylor Draughn and Megan Draughn.
Family will receive friends from 4:00 PM to 5:00 PM on Saturday, May 6, 2023 at The Good Samaritan Funeral Home 3362 (Business) North Highway 16 Denver, NC. Memorial Service will follow at 5:00 PM.
In lieu of flowers, donations in Donna's memory can be made to a Hospice facility of your choice.