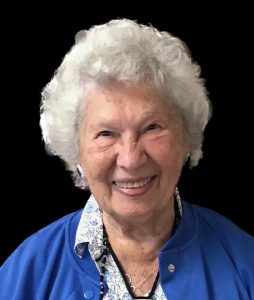 On March 3rd, 2023, Ruth Haigler (Mawmaw) finally accomplished what she had been looking forward towith joy and anticipation for years – she went Home. Her family will tell you, we were never going to be ready to let her go, but we are also incredibly and profoundly grateful that one of The Lord's most precious creations was a constant source of love, peace,and quiet strength our entire lives. While the angels rejoice at her arrival, we grieve but give thanks for the legacy she has left behind.
Ruth spoke daily of The Lord and his goodness. Never one to complain or compare herself to others, she exuded gratitude in her gentle spirit and ever-presentsmile. She refused to worry. Instead, she trusted God each day for His provision and protection over those she loved. It is this part of her legacy that will live on most vividly in the hearts of her grandchildren, great grandchildren, great–great grandchildren, friends, and neighbors.
Born in Charlotte to William Walker Turner and his wife Virgie Cook Turner, she was one of four childrenthat included Hazel, Louise, and Bill.
Ruth married the love of her life, Paul Haigler on May 7, 1948. The two would go on to share a life of compassion and dedication not only to one another, but to God. This dedication would extend into their family and countless others in the Hickory Grove community and beyond. Many happy memories would be shared in their time spent at Hickory Grove Methodist church, as part of their Sunday School class and the "Groovy Grovers" square dance group. They enjoyed hosting large Brunswick Stew and BBQ dinners at their home for friends and family. They made a perfect pair. As quiet as he was loud, as still as he was in constant motion, as carefree as he was the planner, the two were truly the epitome of how opposites can sometimes attract and not only make for a beautiful love story, but build a bedrock for many to rely on. Both Paul and Ruth knew how to love people and that love has impacted the lives of many for the better.
Ruth would become the proud mother of two beautiful daughters, Paula Haigler Rice Thomas and Karen Lynn Haigler.
While raising her two daughters, she was also a working mother at a time when many women did not work outside of the home. She loved her job, and shewas the perfect person to hold the position as switchboard operator at the Charlotte Mecklenburg Education Center for many years. She made such an impression on visitors and coworkers alike that the Charlotte Observer once covered this "refreshing ray of sunshine" in an article featuring this remarkable woman. She was the face of the "Ed Center" and what a wonderful, smiling, kind face it was.
As much as Ruth enjoyed her career, nothing compared to how much she relished being with her husband and family. She was instrumental in helping establish East Calvary Baptist Church beside her husband, Paul. Herfaithfulness and tireless investment in this small church that made a big impact in the lives of many in the East Charlotte area will be remembered – many are eternally grateful for the spiritual impact she made in their lives.
By the time she became a grandmother, Ruth had mastered the art of having fun and living with purpose. When her grandchildren showed up, everything stopped. She would sit and read with them, play board games, and indulge them in whatever their imagination could dream up. Her refrigerator was kept stocked withchocolate milk, and her snack cabinet stayed full. Her cup overflowed when she became a great grandmother to Ashlee, Lauren, Austen, Jackson and Kaylee. Perhaps the greatest delight of her life was becoming a great-great grandmother to Andrew (Drew). Just as she had done with the generations before him, she quickly became one of his favorite people, and he was surely the light of her life. She lived life fully present and she knew exactly what was important. Her priorities never wavered.
Always engaged, entertained and fiercely protective, Ruth was also the one many leaned on when things weren't always good. She knew how to sit quietly with the broken. She chose joy in spite of the heartbreak.She spoke reverently of her beloved grandson, Paul, who passed away at the age of sixteen in 1985, but never ceased to acknowledge that even in the worst of times, God was still good. Although her heart was aching, she delighted in her two remaining grandchildren, John and Emilee. She became a steady space for everyone during one of the hardest times the family would face. Simply put, her quiet faith held her family together. This would continue to be the case throughout her life.
After living in the Hickory Grove area for over forty years, Paul and Ruth relocated to Denver, NC to be closer to their daughter Paula and their grandchildren. They spent many happy years in their new home, finding a new church, Beth Haven Baptist in which to attend and serve, and they quickly acclimated to their new community.
Sadly, Ruth lost her soul mate in 2009. She would go on to survive the unimaginable loss of both of her children, Lynn in 2014 and Paula in 2022. As devastating as these blows were, she continued, holding her family up, her loving smile and grace extended to each person she encountered. There was no storm in which Ruth could not find the rainbow. It has been said that you should never have to tell someone you are a Christian. They should know by the way you treat them. Ruth never had to tell anyone how deep her faith was. Her life was a testimony.
Left behind to carry on her legacy are grandson, John Rice Jr (Darlene), granddaughter Emilee Martin (James), great granddaughters Ashlee Kennemore (Aaron), Lauren Rice, Austen Biagi (Johnathon), great-grandson Jackson Martin (Lily), great-granddaughter Kaylee Patterson (Jake) and great-great grandson Andrew Kennemore, all of Lincoln County. She also leaves behind her "adopted daughter" Patsy Waldrop (JD) as well as many friends and loved ones. Now we must find the rainbow– and we will. As she so beautifully taught us – God is ALWAYS good.
"Many women do great things, but you surpass them all" Prov 31:29
A graveside service will be held Tuesday, March 7,2023 at Sunset Memory Gardens in Mint Hill NCwith her grandson, Aaron Kennemore officiating.
Pallbearers are grandson's, John Rice Jr, James Martin, Aaron Kennemore, Jack Martin, Jake Patterson, Johnathon Biagi and Drew Kennemore.