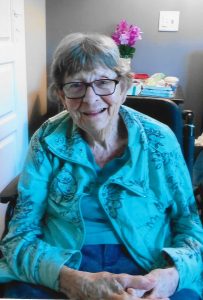 Ruth Louise Hasseman Bauer passed away on September 23, 2023 at her home in Sherrills Ford, NC with her family by her side. She was born on February 18, 1931 in New Philadelphia, Ohio, graduated high school in 1948, and went on to perform secretarial work. She married Rudy Bauer of Dover, Ohio in 1955 and together they raised their four children in Macedonia, Ohio. They moved to the Charlotte area in 1983 and then to the Lake Norman area in 2001.
Ruth enjoyed gardening, boating, camping, golf, arts and crafts, and crocheting. She was well known as a professional cheater at the card game of solitaire. She was a member of a local Red Hat Society and participated in the Blanket & Shawl Ministry at her church.
Ruth is preceeded in death by her parents Herman and Pearl, her brother William, and her great grandchild Faith Marie Corradi.
She is survived by her husband of 67 years Rudy; her son Randy and his wife Jan; her son Rich and his wife Julie; her son Ron and his wife Polly; her daughter Renee; 10 grandchildren and 11 great grandchildren.
A Funeral Mass will be celebrated on Saturday, October 14, 2023 at 11:00AM at Holy Spirit Catholic Church; Denver, NC.  Mrs. Bauer's funeral mass will be available on livestream on the church's website or by this link Mrs. Ruth Bauer's Funeral Mass
The family would like to thank the staff of Carolina Caring for the wonderful care they provided for Ruth and for all the care they continue to provide others. In lieu of flowers, the family asks that a donation in Ruth's memory be made to Carolina Caring or a charity of your choice.