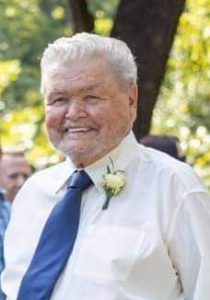 Roy Fredrick Buchanan, 81, of Huntersville North Carolina passed away on October 18, 2021 at Novant Health in Huntersville. He was born to the late Floyd and Frances Buchanan on May 5. 1940.
Roy is survived by his daughters Pam Robinson and Linda Johnson (Dalton); his grandchildren Mike Burrell (Claire), Wendy Hilton (Jason), William Johnson, Joe Burrell, Caleb Johnson (Brittany), Miranda Robinson (Brian), Michael Robinson (Katie); and many great grandchildren. His brothers Edward Buchanan (Linda), Randy Buchanan (Wanda). His sisters Barbara Wilkes (Mike), Patsy Scott, and Martha Buchanan ; and his loving companion Bailey the Beagle. 
Besides his parents, Roy is preceded in death by his loving wife of 63 years Frances,  his brothers Ira, Ralph, and Bill as well as his sisters Elsie, Louise, Betty, Joyce, and Mildred. 
A Celebration of Life will be held on Saturday October 23, 2021 at 11:00AM at New Grace Baptist Church 3462 NC-73 Iron Station, North Carolina 28080. Pastor Jerry Taylor will be officiating.  
In lieu of flowers, donations can be made in Roy's memory to New Grace Baptist Church, Iron Station, North Carolina.