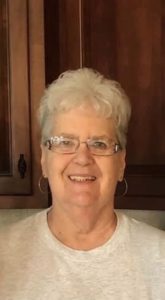 Carolyn Ann (Rooney) Hroszowy, 74, of Denver, NC, passed away on Sunday, October 31, 2021 of natural causes. 
She was born in Worcester, MA  on May 10, 1947  to Bernadette H. (Adamiak) and Robert T. Rooney, Sr.  She is predeceased by both of her parents and her brother, Robert T. Rooney, Jr.
She grew up in Shrewsbury, MA and graduated from Shrewsbury HIgh School (1965) where she played field hockey.  She attended Framingham State College, where she won an award for the business program. She worked at several places  throughout her lifetime and retired as an administrative assistant from the Massachusetts Rehabilitation Commission in 2002. 
She was obsessed with books (never met a library or bookstore that she didn't love), the Boston Red Sox, the New England Patriots, enjoyed arts and crafts, woodworking, card games and Bunko with good friends.  She also volunteered at the Blackstone Public Library, coached softball and was a Member of Salem United Methodist Church in Denver, NC.
During her lifetime she lived in Worcester, Shrewsbury, Blackstone,  Falmouth, & Douglas, MA and Denver, NC.  
Her extreme love for her four daughters was evident throughout her life and towards the end as she waited for each of them to make it to her bedside before she passed. They are Laura C. Prinzo (Johnny) of Quincy, MA, Patricia C. Gagnon (Steven) of Lincolnton, NC, Paula C. Sulfaro & partner Patrick Jackson of Southport, NC and Sarah J. Hroszowy of Denver, NC. We have wonderful memories of many family vacations and get-togethers.   She also loved debating about politics and bantering with her son-in-laws. 
She was there with her two, beautiful granddaughters, whom she adored,  as they were growing up in Massachusetts and when they moved to North Carolina in 2005.  "GMA", as they lovingly nick-named her, was always there when they needed her and they had a special bond that was cherished by all three of them.   They are Rebecca A. Wolfe (Max) of Monroe, NC and Karlie E. Locklin (Brandon) of Maiden, NC. 
She was overjoyed to have a great-grandson, Rawlings A. Locklin of Maiden, NC and looked forward to meeting her newest great-grandchild in May of 2022.  
She is also survived by her loving sister Kathleen Lonzo of Falmouth, MA, and many nieces, nephews and great friends.  
A Celebration of Life will be held in her honor this Wednesday, November 3, 2021 at the Salem United Methodist Church, 378 N Pilot Knob Rd, Denver, NC. The family will receive friends from 5:00PM to 6:00PM with a service following at 6:00PM. 
Please join us after the service for some of her favorite Italian food & refreshments in the church hall.
In lieu of flowers, donations can be made to the Balls Creek Elementary School Media Center, 2620 Balls Creek Rd, Newton, NC 28658 for the purpose of purchasing books for the students at the school.   She loved books!!!