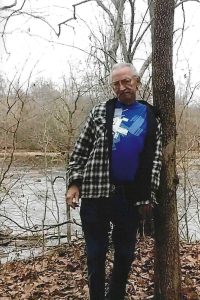 Ronald Cleveland Eury, 79, passed away on February 10, 2020 surrounded by his loving family at Atrium Health – Lincoln Hospital in Lincolnton.
Ron was born on March 11, 1940. He was the son of the late Titus and Wilma Eury.
Ron was a Master Carpenter by trade. He took pride in what his hands could do and accomplish. He took pride in the completed project. He loved collecting guns. He loved music. He loved playing his guitar and recording music. He loved to listen to his favorite artists, Elvis Pressley, Jim Reeves, Johnny Cash and Jerry Lee Lewis. He also enjoyed fishing.
Most of all, Ron was truly in love with his beloved Iris, his loving wife and best friend of over 51 years.  Together they created a lifetime of memories. Together, they would ride on Ron's motorcycle going out to eat or stopping off at yard sale. He would always be reaching back making sure his Iris was always there. They also loved to walk hand and hand on nature trails, always talking, always in love.
Ron always loved engaging in conversation with strangers. He loved talking about the past, present and future.
He will be remembered mostly for his love of his family.
Besides his parents, Ron was preceded in death by his son, Barry David.
Ron is survived by his wife, Iris; children Ronnie (Bonnie), Brian (Kim), Debbie (Terry), Juanita (Richard), Dee (Jack); 12 grandchildren, Sierra, Tyler, Ronnie Jr., Lia, Merissa, Michael, Crystal, Gordon, Bridget, Christy, Taylor, Barry, Jr.; his 12 great grandchildren; brothers, Richard, Buddy and Titus; nieces and nephews; brother and sister in law. Ron will also be missed by his many friends that will cherish his friendship and will be blessed by lasting memories
Visitation will be Sunday, February 16, 2020 1:00 PM – 2:00 PM at  The Good Samaritan Funeral Home 3362 North Highway 16 Denver, North Carolina 28037 Celebration of Ron's Life Sunday, February 16, 2020 2:00 P.M.