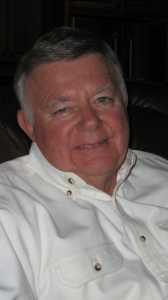 Edward William Waschak, age 83, passed away in his home surrounded by family in Denver, NC on February 12, 2020. Ed was born in Youngstown, Ohio on September 10, 1936, the youngest of 8 children born to the late Joseph and Mary Waschak.
Ed later moved to California where he graduated from high school and became a successful business owner.  Ed, with his brothers. created a company that overhauled landing gear for commercial aircraft. He lived in California until his retirement years when he moved to North Carolina.
Ed proudly served our country as a member of the United States Army, 7th Army Transport Corps from 1959-1965, sharing many fond stories of his time spent in Europe.
Ed had a passion for flying. He piloted many flights around the country in his beloved Cessna 182. He purchased a Ford Mustang in 1966 that he drove all the years of his life.
Ed enjoyed living on beautiful Lake Norman. The lake brought him peace and contentment as he boated and enjoyed watching his grandkids on the lake.
Ed was known for his easy-going nature. He was a man of integrity, both loyal and giving, never expecting anything in return.
Besides his parents, Ed was preceded in death by his older siblings; Mary Waschak, Helen Schied, Joseph Waschak, Catherine Robinson, Dorothy Geidner, John Waschak and Robert Waschak.
Ed is survived by his loving wife Cathy Noyes; stepdaughters Erica Noyes Gilreath (James son in-law) and Dana Noyes; his grandchildren Hailey Gilreath and Chase Gilreath; sister in-laws Virginia Woods and Sarah Snapp as well as the entire Waschak Family.
A Catholic Prayer Services will be held at 2:00 PM on Monday, February 17, 2020 at The Good Samaritan Funeral Home 3362 (Business) North Highway 16, Denver, North Carolina 28037. The celebrant will be Rev. Carmen V. Malacari, Pastor of Holy Spirit R.C. Church Denver, North Carolina.
Flowers may be sent to Good Samaritan Funeral Home. In lieu of flowers, donations may be made to the American Cancer Society in honor of Edward William Waschak.