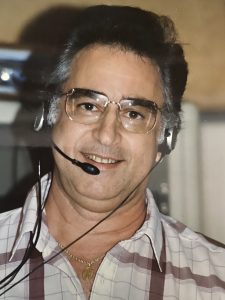 Robert Kenneth Mendonsa Sr. 83, passed away on October 15, 2021. Robert was born on January 13, 1938 to the late Manuel Mendonsa and Hilda Kitchel. He was born and raised in Hilo, Hawaii until he moved to Huntersville, North Carolina in 2013.
Robert worked in Aeronautical Radio Inc. for 35 years as a Radio Operator Supervisor and served as a Reservist for the United States Navy.
Robert enjoyed old movies, photography, video and helping with his children's schools in his past time. Robert especially loved being with his children and his grandchildren.
Robert was a member of St. Mark Catholic Church located in Huntersville, North Carolina where he served as head usher for many years.
Besides his parents, Robert is preceded in death by his siblings, Betty Jean Sandlin and Lynne Ortiz.
Robert is survived by his loving wife of 63 years Teresa Mendonsa; his children Robert Mendonsa Jr. (Kelli) of Chicago, IL, Curtis Mendonsa (Heather) of Honolulu, HI, Veronica Brilhante (Guy) of Concord, NC and Terry Mendonsa of Huntersville, NC. His grandchildren; Allegra Mendonsa, Caleb Mendonsa (Yuki), Zachariah Mendonsa, Blake Brilhante, Beau Brilhante (Aleigh), Gabriel Brilhante, and Isabella Brilhante; and his sister Gladys Vida of Honolulu, HI.
A Funeral Mass will be celebrated at 11:00AM on Thursday October 21, 2021 at St. Mark R.C. Church ; 14740 Stumptown Road Huntersville, NC 28078.
The Good Samaritan Funeral Home is assisting the Mendonsa Family.