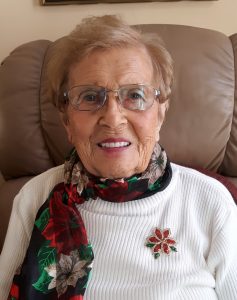 Dorothy "Dot" Boback, 98, died peacefully at home in Denver NC on October 14, 2021.  She was born July 15, 1923 in Warwick, NY, and spent her adult life raising her family and working as a beautician in Clifton, NJ.
Upon retirement, she moved to Denver NC where she made lasting friendships through her volunteer work at East Lincoln Christian Ministries, and as a member of Happy Times Senior Group and East Lincoln Community Garden Club.
She was known for her homemade Christmas cookies, knitted dish cloths, exquisite paintings, and sharing the stories, recipes, and traditions of her Polish heritage. Zoom "visits" with family (especially the grand and great-grandchildren), watching the birds  and squirrels, daily prayer time and marveling at the splendor of nature, sustained her through her later years.
Though she will be tremendously missed by family, friends and Holy Spirit church family, Dot is now in the arms of Jesus, where she will be forever young.
Dot is predeceased by her parents Joseph and Jennie Niski; brothers Edward Niski, Daniel Niski  and Joseph Niski Jr.; and sister Eleanor Petak.
Survivors include her children Frank Boback (Brenda) of Littlestown PA, Joanne Bogdon-Diaz (Angel) of Penbroke Pines FL, Diane Hagens (Bob) of Denver NC, and Bob Boback of Castle Pines CO ; brothers Vincent Niski of Colorado Springs CO, Tom Niski of Pine Island NY, sisters Esther Caldara of Littleton CO and Martha Masker of Highland NY; grandchildren Jonas Bogdon, Christopher Boback, Jeremy Boback, Brandon Boback, Sarah Jaun, Stephanie Hagens, Kendyll Boback and Alyssa Boback; great-grandsons Nicholas, Rhys, Ryan, Jacob, Hugh and Nate;  and many nieces and nephews.
The family will be forever grateful to the Lincoln County Hospice and Palliative Care team for their love and support for the past 17 months and to Myra Hobbs, for her devoted care for the past 10 years.
A funeral Mass at Holy Spirit Catholic Church in Denver NC will be celebrated on Friday, November 12, 2021 at 11:00 am.