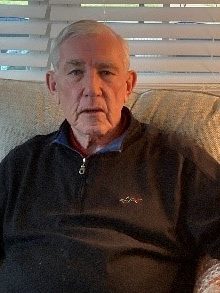 Richard Carlton Barnes was born in Wilson, NC on February 26, 1943. Carlton passed away at home from pulmonary fibrosis on September 18, 2021. During his illness, services were provided for him by Novant Hospice, which enabled him to remain home. Carlton was proceeded in death by his parents, Ralph Carlton Barnes and Ethelene Lucas Barnes, of Wilson, NC, and the mother of his children, Jerrilyn Vail Barnes. Carlton was a loving son, brother, husband, father and grandfather. He will be missed by all extended family and friends.
Carlton graduated magna cum laude from East Carolina University with a Bachelor's degree in 1965, where he played baseball on a scholarship. Following graduation in 1965, he played minor league baseball for the Cincinnati Reds traveling the country with the team.  He then enlisted in the Air Force in 1968 during the Vietnam War Era. Following his military service, Carlton returned to East Carolina University earning a Master's degree in 1970. He then taught high school and coached in Kinston, NC. Carlton began his business career in insurance beginning with Aetna.  After a career spanning thirty plus years, he retired from The Hartford in 2008.
Carlton is survived by his loving wife Marge Barnes of Denver, NC, son, Scott Carlton Barnes and daughter-in-law, Stephanie Davis Barnes and grandson Christopher Tobias Barnes of Charlotte, NC, daughter, Dr. Anne Renee Barnes, of Portland, Oregon, and sister, Kaye Barnes Michaels of Raleigh. 
A Memorial Service will be held on Thursday September 23, 2021 at 1:00 p.m. at St. Thomas Lutheran Church, 4013 Shamrock Drive, Charlotte, NC.
 Graveside Burial Service will be held in Wilson, NC at Buckhorn Cemetery Saturday, September 25 at 12:00 pm
Arrangements are being handled by Good Samaritan Funeral Home, Denver, NC and Joyner's Funeral Home & Crematory, Wilson, NC.
In lieu of flowers, donations may be sent to Wounded Warrior Project, Gary Sinise Foundation Avalon Network or to St. Jude's Children Hospital Foundation.