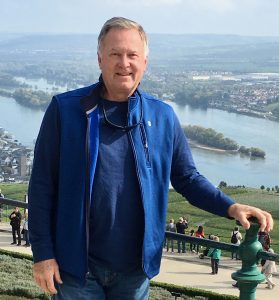 Richard (Rick) Andrews was a loving husband, devoted father & "Pop", brother, son, in-law, and friend. These relationships are what he treasured the most in his life. Rick was born on January 15, 1952, in Green Tree, PA. He was preceded in death by his parents, Romaine Andrews (U.S. Navy, WWII Veteran) and Anna Mae (Sheakley) Andrews.
Rick's childhood (Pittsburgh, Chicago) was typical of a Midwest family in the 1950s, with his brother Doug. His athleticism evolved in high school basketball, soccer, and his lifelong love of the game of golf. Rick forged lasting friendshipsduring his years at Bucknell University (BS Mechanical Engr, Lambda Chi fraternity). The"Bucknell Boys" nurtured their 50+ year friendships making memories on golf outings coast to coast and across oceans. Rick completed his education with an MBA at the University of Michigan. The Bison and Wolverines have lost a true cheerleader.
Rick's true love and unwavering devotion was to his family – Tonya, his wife of 40 years; his children, Lindsay (Jeremy), Damon (Tricia), andKelsey (Justin); and his grandchildren Gavin & Quinn, Pearl, and Sutton & Callaway. He welcomed his children's spouses like his own children. Meeting in Ohio, Rick and Tonya's years together were a beautiful mesh of different backgrounds. Tonya managed the home front during Rick's years of business travel; no matter how exotic his locations, Rick was always overjoyed to return to his family – to be home. He and Tonya also shared travel adventures;highlights were paragliding over the mountains of Annecy, France, and bicycling in the wine region of Italy. Road trips always included Rick's favorite classic rock & roll tunes; he was quite arock & roll and sports trivia expert. A perfect pair in the kitchen, Rick never hesitated to try the many new recipes Tonya created. He never tired of telling Tonya, "You just don't know how much I love you!" What a beautiful gift he gave her!
Rick embraced fatherhood with boundless love. Always the jokester ready for fun, laughter, and adventure, Rick also taught his children values,character, respect, work ethic, and loyalty. He prepared them for their successes in life as well as how to overcome obstacles and failures. He was their true all American Hero! He would attempt a little tough love, but was always the softie with open arms. Then 5 grandchildren made life even sweeter, and he found a new,deeper love in his heart. Rick wore his role as "Pop" like a crown jewel.
Rick embodied the finest qualities of all of us — his character, integrity, loyalty, humor, and hard work resulted in admiration, respect, andlifelong relationships in both his personal life and business career. A business associate commented, "What I admired most about Rick was his kindness towards everybody. I think Rick was always believing in the good of people. I have never met a person like Rick." That is who Rick was. It was a privilege to know him.
Most of Rick's 40+ year working career was in the pump industry, culminating the last 20 years with GPM, Inc., a successful, international company he developed with a business associate. There are few people in the industry he didn't know, and few who didn't know and respect him.
Rick passed peacefully at home on June 28, 2023, after a hard fought battle with unyielding malignant melanoma. He never asked, "Why me?", but instead asked, "What's next?" He remained strong in his faith to the end, including many years volunteering at Team Church.
Our family thanks all our loving and faithful relatives and friends who have been Rick's cheerleaders in his fight and have weathered this journey with us. He is now at peace.
In lieu of flowers, please consider a donation to the First Tee organization (building character, self-confidence, & life skills in children through golf) or The Charlotte Rescue Mission.
A Celebration of Life will be held at Team Church, 2301 Stevens Mill Road, Matthews on Sunday, July, 23, 2023 Receiving of friends & family will be from 2:00-3:00 pm with a Service beginning at 3:00 pm.