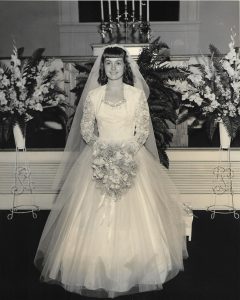 Sylvia Groves Caldwell, 85, of Maiden passed away on July 10, 2023, at Sherrills Ford Hospice House. She was born on June 30, 1938, in Mecklenburg County, the daughter of the late Monroe John and Ruth Theo Hill Groves.
Sylvia worked for Mecklenburg County Utilities as a Draft Technician.
Besides her parents, she is preceded in death by her son Sidney Darrell Caldwell.
She is survived by her loving husband of 67 years Gil; sons Gary, Gil Jr, and Ronald Wayne and his wife Rhonda; grandchildren Ethan, Richmond Alexander, Landon Wayne, and Noah Caldwell; and three great-grandchildren.
A service will be held on Saturday July 22, 2023, at 1:00PM at Lebanon United Methodist Church, Maiden NC. Revered Tom Bledsoe will officiate. Family will receive friends from 12:00PM to 1:00PM.
The Good Samaritan Funeral Home, Denver NC is honored to serve the Caldwell Family.