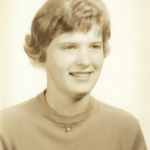 Rebecca Haynes Richardson – "Ging" of Denver, NC. went home to the Lord on Sunday, July 22, 2018. Ging was born on February 8, 1943 in Durham, North Carolina to the late Lewis Clay Haynes and Elizabeth Spoon Haynes.
Ging was called to be an ICU nurse for 44 years. From Parkersburg, West Virginia to Atlanta, Georgia she spent countless hours saving many lives. She had the honor and privilege to care for amazing patients and their families through the work of caring for others. She also volunteered many summers as camp nurse to Easter Seals Children and Youth Opportunity Camps making a lasting impression with children from all walks of life. She hoped to be remembered with "laughter, love, and a good time with family."
Left to cherish Ging's memory are her daughter Suzanne Richardson Raxter of Denver, North Carolina; grandson Joshua Milton Raxter and his wife, Katelin Greer Raxter of Charlotte, North Carolina; sisters Kay Haynes Sudduth and her husband, Michael Campbell Sudduth of Bluefield, West Virginia, Abbie Haynes Bailey and her husband, Richard Scott Bailey of Huntersville, North Carolina; nieces and nephews Elizabeth Sudduth, Clay Sudduth, Alex Bailey, Sara Bailey, and Peyton Bailey; her one aunt Sara Coble Spoon; and her two fur buddies Gunner and Matti.
Funeral Service was held on Wednesday, July 25, 2018 at The Good Samaritan Funeral Home. Rev. Anita Sain, Associate Pastor of Denver UNM officiated.