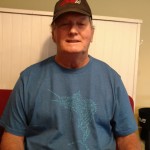 Robert 'Bob' Joseph Roland Sr. 68, of Iron Station, NC passed away on Saturday, July 21, 2018 at CMC-Lincoln Hospital.
Born on March 17, 1950 in San Diego, Ca., he was the son of Elizabeth Beat Roland and the late Billy J. Roland. Bob worked as a truck driver for various businesses, owed his own trucking company transporting aggregate and worked for the United States Postal Service.
Bob loved his family and since the age of 15 he became involved in his love of racing. He also loved children. One day he saw the neighborhood children waiting outside for the school bus in the pouring rain. That day he decided to build a shelter for them so when it rained they would have protection as they waited for the bus. A neighbor's granddaughter loved him so much when he was ill she wanted to give him one of her stuff toys to make him feel better.
Besides his mother, Bob is survived by his wife and best friend of 47 years, Kathleen Mary Bennett Roland; sons Robert Jr. (Bobby) and James and siblings Bill, Bruce, Brian and Brenda.
Family will receive friends on Saturday, July 28, 2018 from 10:00 AM. to 11:00 AM. at Holy Spirit Roman Catholic Church 537 North Highway 16 Denver, North Carolina 28037. Funeral Mass will be celebrated at 11:00 AM. The Good Samaritan Funeral Home in Denver is serving the Roland Family