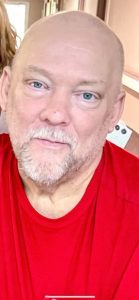 Randy Scott Lovelace 58 of Vale NC passed away on May 3, 2022. Randy was born on October 20, 1963 to the late Roy Lovelace Jr and June Ann Read. In addition to his parents he was also preceded in death by his wife Sandy Gilbert Lovelace and a son Jonas Gilbert. Also two brothers Gerald Lovelace and Scott Lovelace and one sister Tammy Engle. 
He is survived by two daughters, Jonita Cornwell and Alicia Gilbert. Five granddaughters, Brittany Cornwell, Ceslee Cornwell, Sheila Buckner, Kianna Bryant, Cheyenne Gilbert; three grandsons Josh Gilbert, Dalton Scronce Bryson Gilbert and eight great grandchildren. Also a brother, Wayne Lovelace and three sisters; Wendy Martin, Karen Connor and Lisa Goins. 
Randy was the co-owner of Roy and Randy Lovelace painting. He loved sports and country music. Randy's life here on earth wasn't without many struggles. In the end with a clear understanding Randy like many people had many regrets and was very remorseful. Randy experienced God's Grace and mercy and we all are truly thankful for that. Luke 23:40-43
.
The family will have a private service at a later date. 
In lieu of flowers, you can make donations in Randy's memory to the family c/o The Good Samaritan Funeral Home. 3362 North Highway 16 Denver, North Carolina 28037.