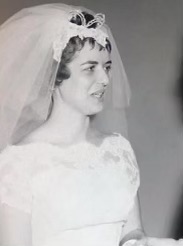 Lillian Mary Rynne, of Cornelius, passed away on May 2nd, 2022  surrounded by the love of her husband, son, and grandchildren.
Born to the late Arthur Gallagher and Lillian Gallagher (Aubrey) on October 17th, 1938, in New York City, she was the youngest of three children.
Besides her beloved parents, Arthur and Lillian, "Lil" was predeceased by her sister Frances A. Gallagher.
Mrs. Rynne, 83, grew up in Inwood, New York City, and graduated from Immaculata High School in Manhattan, NY.
She is survived by her beloved husband, Thomas M. Rynne, son David T. Rynne ("my baby boy"), grandchildren Madison E. Rynne, Sean P. Rynne, Molly P. Rynne, and Thomas M. Rynne, II, and her brother Arthur Gallagher. 
Lil and Tom would have been married 61 years this June. "And they said it wouldn't last," she liked to quip.
Known for her quick wit and "tell it like it is" attitude, Lil was oftentimes unpredictable with her comments, and people were drawn to her because they always wanted to hear what she would say next. "She was a pistol" is the most common refrain from those who knew and loved her. She commanded an audience.
A devout Catholic, she handled life's ups and downs with grace, grit, and a fantastic sense of humor. As the wife of a career law enforcement professional, Lillian was used to Tom's odd hours. "What, am I gonna complain? He has a gun."
Lil's first professional job was with Prudential Insurance, working in the Empire State Building, and she spent much of her career working for banks as a mortgage closing officer. A lifelong learner, she was a history buff, loved reading The World Book of Facts, and would have won Jeopardy! if given the chance.
The family would like to thank the doctors, nurses, and hospice workers of Novant Health Huntersville Medical Center for all of their help and kindness. 
In lieu of flowers, a donation may be made in honor of Lillian to the Holy Spirit Catholic Church Building Fund.
A viewing will be held on Monday, May 16th from 4-7pm at Holy Spirit Catholic Church, and a funeral Mass on Tuesday, May 17th at 2:30 pm at Holy Spirit Catholic Church, 537 N Highway 16, Denver, NC.