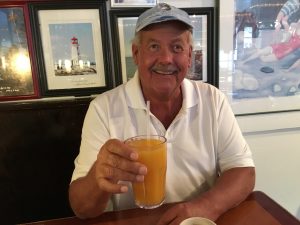 Mark Harry Schwarzmueller, 70, of Denver, NC. passed away on February 27, 2021 at his residence. Born on April 1, 1950 in Buffalo, NY., he was the son of the late Harry and Helen Schwarzmueller.
Mark was a Buffalo Bills Football Fanatic and a beach lover. He loved spending time at Sanibel Island. He will always be remembered as a loving husband, father, grandfather, brother and friend.
Besides his parents, Mark was preceded in death by his sister Lynne Schwarzmueller of Tucson and brother David Schwarzmueller of Buffalo, NY.
Mark is survived by his loving wife of 47 years, Linda Duzen Schwarzmueller; children Mark Schwarzmueller Jr (Hilary) of Orlando, FL; Brian Schwarzmueller of Las Vegas, NV; and Julie Kramer (Benjamin) of Huntersville, NC. Grandchildren Madelyn, Alexandra, Margaret and Henry; and brother Gary Schwarzmueller and his wife Beth of Columbus Ohio.  
Funeral Mass  will be celebrated at 11:30 AM on Thursday, March 4, 2021 at Holy Spirit R.C. Church 537 (Business) North Highway 16 Denver, NC. 28037
In lieu of flowers, donations in Mark's memory to Hospice and Palliative Care of Lincolnton would be deeply appreciated.