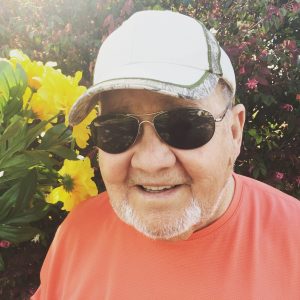 A greater storyteller there never was…
On Tuesday, March 9, 2021, Lawrence "Johnny" Hines was reunited with his maker at the accomplished age of 81.
Johnny was a man of many talents and passions. He served in the United States Airforce as a B47 Maintenance Crew Chief.
Johnny traveled the country flying planes, hopping trains, and racing cars. He was a talented woodworker and lovingly crafted gifts for many of his friends and family. He had a fierce love of jalapeño poppers, a bold cup of coffee, and the gospel. Johnny relished in any opportunity to tell a good story about his renegade youth and his outlaw relatives; and did so with the panache of a classically trained troubadour. Johnny never met a stranger. His friends were many.
Johnny was preceded in death by his parents, Lloyd Bird and Betty Martha Hines and his siblings Rainey, Sandy, and George. 
Johnny is survived by his wife Karen and his children Kevin Harris, Teddie Phillips, Susie Ryon, Donnie Pomponio, Patrick Hines, Susan Lockwood, Jerry Johnson, Alan Johnson, Charlie Thatcher, and Candy Thatcher. Johnny was blessed with 19 grandchildren and 23 great-grandchildren. 
In memoriam, Johnny's family asks that friends and loved ones stop by sometime and re-tell the stories he can no longer tell.
A celebration of Johnny's life will take place on Friday, March 12, 2021 at 2pm at Denver United Methodist Church. Reception and storytelling will follow at 3pm at Pursuit Church.