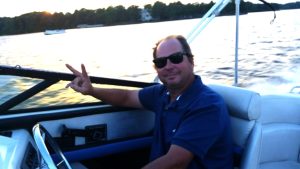 Mark Ellis Salter, 52, of Denver passed away unexpectedly on October 29, 2023.  He was born at 2:49am on June 7, 1971, in Raleigh, NC to Randolph and Martha Salter.
Mark was a very entertaining child. He began walking at just 9 months old and began speaking in full sentences before the age of 1.  His mother Fern, a resident apartment manager would bring Mark around with her. He spoke so well that they believed that Fern was a ventriloquist carrying him around. He was beloved by his grandfather, who would steal him away from his mom and show him off to all his friends.
The family moved to Mint Hill when Mark was about 5 years old for athletic opportunities like tee ball, soccer, football, baseball, and he excelled at them all. Along with being an athlete, Mark was very smart and very artistic as he was a skilled drawer. He was even riding a motorcycle before his feet could touch the ground.
He graduated from Independence High School in 1989. He then spent some time in Washington State after graduation before entering the Navy for a short amount of time.  After leaving the Navy, he moved to California and started selling cars. Not long after, his brother Randy went and joined him. California is where he met his first love; boats. Mark and Randy loved to visit their paternal grandparents in Daytona Beach.
Soon after, on Thanksgiving Day 2000 Mark met Nancy in California while she was dropping off her daughter Alexa. As soon as Mark laid eyes on her that was it. He wiggled his way next to her on the couch and they played pinball.
The next summer, Nancy and Alexa moved in with Mark in California on the peninsula in Long Beach. He fell in love with Alexa as hard as he did Nancy. He took 'his' daughter under his wing and embraced, championed, supported and protected her like his own. He also had to learn how to love dogs. He loved his "package deal" from the very beginning. Mark proposed to Nancy outside their house on the beach in 2001 with a banner behind a seaplane. They were married on October 12, 2002. They spent a lot of time on boats in Long Beach where Mark worked at Long Beach Yacht Sales. They also enjoyed many trips to Catalina where Mark's captain skills were unparalleled. He was a jack of all trait, he always knew what to do to solve any problem, make friends with all who crossed his path, loved harder and laughed full heartily than anyone.
In 2004, Mark and Nancy welcomed their first son Brayden into the world. He was so excited to throw the ball with his boy. He had him playing soccer and baseball at age 3 and football at age 4. He was so proud of his brilliant and sweet boy. He cried tears of joy when Brayden made the Chancellor's List. Three years later in 2007, his second daughter Chloe was born. A fearless adrenaline junkie just like her dad. Mark was in awe of her. He encouraged her to try anything and everything. He believed she could do anything she put her mind to. She was his boat parking protégé and he couldn't have been more proud of her.
Regardless of cost, Mark wanted his family to have the very best. He always said, "I'll take care of it". From snowboarding to traveling together as a family, he worked hard to make sure his family got to experience many things and do what made them happy. 
The Salter Family moved to North Carolina in 2015. Mark was ecstatic to bring his family back to where he grew up. He was excited to be living close to his best friend and brother Randy, his beloved mother Fern, and join his dad at American Marine Liquidators where he successfully managed the shop and ran the show.
Besides his loving wife, children, and large family; Mark is survived and loved by countless and adoring friends from all across the country. 
The Family will receive friends on Friday, November 3, 2023 from 4:00PM to 6:00PM at The Good Samaritan Funeral Home. A Prayer Service will take place on Saturday, November 4, 2023 at 2:00PM at Holy Spirit Catholic Church 537 N NC 16 Business Highway Denver, NC  28037. A livestream of the Prayer Service from Holy Spirit is available at this link: Mark Salter Prayer Service Saturday 2:00PM
In lieu of flowers, donations in Mark's memory can be made to his children's education fund that will be established at a later date.