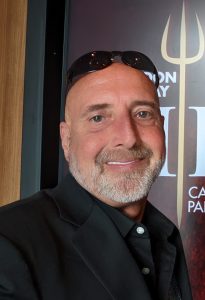 Kevin Ray Wiggins 48 of Denver, NC passed away on May 22nd 2022 from a tragic motorcycle accident. 
Kevin worked in the trucking industry as a professional truck driver for 18 years. He was very passionate about his career. The last 5.5 of those years he worked for Lodestar Transport of Barnesville MN. They gave him his dream of becoming an Owner Operator. That became his second family… his OTR family! Kevin absolutely loved his job just as much as he did his motorcycle. If he wasn't on 18 wheels it was 2!
Kevin was a special man in the trucking world as well as in his hometown. He was an AWESOME husband,  son, father, brother to many, with and abundance of friends.  He will truly be missed.
He was preceded in death by his father Nolan Weaver 
Survivors included to cherish his memory are his Beloved wife and Love of his Life for 20 years Dana Grass Wiggins; his mother Zoe Weaver; his father in law Link Grass; mother in law Beverly C. Grass; his sons Kevin R Wiggins Jr. and  Zack Smith and his wife Kourtney; his daughters MKenzie Smith and Jessica Hester; his brother Keith Haas; granddaughters Lola Grace Smith and Vanna Ann-Marie Smith;  his only niece and nephew Dalton and Kaitlyn Haas; and his step- brothers Scotty, Brian, & Jimmy Weaver.
Family and friends are invited to attend a gathering to celebrate Kevin's life on Saturday June 25th any time between 2pm and 5pm at the Lincolnton Sportsman Club, 389 Horseshoe Lake Rd. Lincolnton,  NC 28092.
In lieu of flowers, Donations in Kevin's memory may be mailed to 2543 Norton Ave. Denver,  NC 28037.