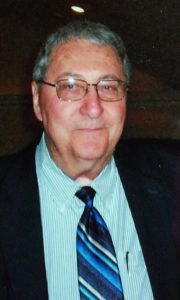 Julian Ules Tannery, 86, of Stanley passed away on Monday, May 16, 2022 at Atrium Health Lincoln. He was the son of the late John Benson and Irene Bennett Tannery.
Jake, as he was known to his friends, worked as a brick mason at Duke Power for 18 years and operated Affordable Used Cars for 22 years before retiring in 2012 due to his failing health.
He was preceded in death by his brothers, John, Robert and Randall Tannery; sisters Louise Madden, Catherine Callaway, Jo Ann Shaw, and Ollie Crawford; and three nephews.
He is survived by his wife, Rosalee Oakley Tannery of Stanley; his daughter Allison Tannery of Stanley; sister Linda Taylor of Piedmont, SC; brother-in-law John Oakley of Walhalla, SC; six nieces, and his beloved little boy dog, Sam.
A private memorial service will be held at a later date.
The Good Samaritan Funeral Home is serving the Tannery Family.