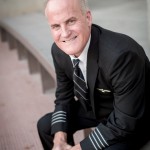 Kenneth Westfield Oakley Jr., 60, of Denver, NC passed away suddenly on September 24, 2017 in Charlotte, NC. Born on September 2, 1957 in Jacksonville, Florida, he was the son of the late Kenneth and Edna Oakley
Ken learned to fly at the age of 16 and decided that he wanted to be a professional pilot. He attended Embrey-Riddle University on an Air Force Scholarship and earned a Bachelor of Science in Aeronautical Engineering and later earned his Master's Degree in Business Administration at Arizona State University. After he was Honorably Discharged from The United States Air Force, Ken flew for a regional airline in Kansas and then joined America West in Phoenix, Arizona. He was proud to be an American Airline Pilot and considered himself the most fortunate of men to be able to make his living doing what he loved.
Ken will be remembered as a man full of life and spirit. He was charismatic with a heart filled with love, adventure and determination. His life was ended too soon but he will be loved and missed dearly by his family and friends.
Ken is survived by his wife, Irina Efimova Oakley; daughter Sheena Christiansen and her husband Aaron of Phoenix, Arizona; grandsons Brady and Brycen; stepdaughter Katya Losakar of the home and sisters, Suzanne Kirby and Pam Pereira.
Ken learned to fly at Goose Creek Airport in Indian Trail, North Carolina. A Celebration of Kens Life was celebrated there on Saturday, September 30, 2017 at 6 PM.