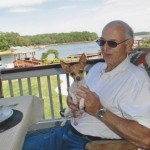 Robert (Bob) Chester Kuczmarski Sr.81, of Stanley, North Carolina passed away surrounded by his family at his residence on September 27, 2017
Bob was born in Flushing, (Queens Co.) New York on January 1, 1936. He was the son of the late William and Evelyn Prochaska Kuczmarski. He graduated from Jamaica High School. He was a member of the Iron Worker's Union in New York City. He was a member of the Holy Spirit Council – Knights of Columbus.
Besides his parents, he was preceded in death by his brother, William (Bill).
Robert is survived by his wife, Viola (Zampini) Kuczmarski; 3 sons Robert (NYPD Ret.) and his wife, Linda and their children Robert Jamesand John Anthony, Alan and his wife, Julie and their children Kyle and Jared, and Christopher; sister Gail Romanoff and her husband, Bob and several nieces and nephews.
The Funeral Mass was celebrated on Friday, September 29, 2017 at Holy Spirit R.C. Church Denver, NC.
The Good Samaritan Funeral Home Denver assisted the Kuczmarski Family.