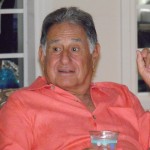 Neil Nicolas Monetti, 78, of Denver, NC. passed away on September 25, 2017 at Levine Dickson Hospice House Huntersville. Born on June 16, 1939, in Jersey City, NJ., he was the son of the late Carmen and Elizabeth Perrulli Monetti . Neil served proudly in the United States Army.
He loved the water, bicycling, long walks and cooking.
Neil is survived by his wife, Linda; daughters Angela Monetti Bray and her husband, Tim and their children Nicholas and Sarah, Danielle Monetti and Bethanne Monetti; sister Rosemary McGovern.
Neil is also survived by his step-sons Joshua Lane and his wife Cary and Adam Lane and their children Mallory, Darby, Ainsley and Caleb
Funeral Mass will be held on Saturday, October 7, 2017 at 11:00 AM at Holy Spirit R.C. Church 537 North Highway 16 (Business) Denver, NC
The Good Samaritan Funeral Home Denver is serving the Monetti Family