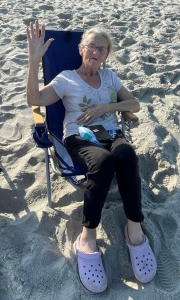 Joyce Runyon passed away on March 3, 2023, at her residence in Crouse, North Carolina. Born on October 14, 1953 in Beckley, West Virginia, she was the daughter of Louise Woolwine McClure and the late Valpoe McClure.
Besides her father, Joyce was preceded in death by her husband, Frank.
Joyce is survived by her children Frankie Runyon (Lynette), Lisa Lassiter (Joe), Ricky Runyon (Stephanie) and Kevin Runyon (Carrie); mother Louise Woolwine McClure of Cleveland, Ohio; 13 grandchildren and 9 great grandchildren; sisters Crystal Snyder and Liz McClure; brother Roger McClure and many nieces and nephews
Funeral Service will be held on Friday, March 10, 2023 at 1:00pm at Community Baptist Church 823 Dallas Stanley Highway, Dallas NC 28034.