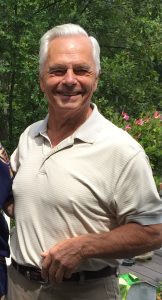 Joseph Francis Franck, of Denver, NC, passed away on September 24, 2023.
Joe was born on August 5th, 1939 to Joseph and Jeanette Franck in New York City. After graduating from C. W. Post College of Long Island University, Joe went on to work for Republic Aviation and Bell System in New York before transferring to North Carolina with AT&T.
In his early years, he met Carol Greco in New York. The love of his life and the wife of his children. Joe and Carol went on to have 4 kids, Sharon, Patricia, Joseph, and Lisa.
In 1994, Joe retired and spent his time working in the construction industry as a General Contractor. He loved spending time with his wife, kids and grandchildren on the lake and in the surrounding community. He enjoyed visiting the coast and spent countless hours fishing, playing pinochle and listening to oldies music with his lifelong friends.
Joe is proceeded in death by his mother and father Joseph & Jeanette Franck.
He is survived by his wife Carol Franck of Denver, NC, sister Janet Grusauskas of Port Orange, FL, and his children Sharon Tucker (husband Charlie), Patricia Tice (husband Ken), Joseph Franck (wife Beth), Lisa Gardner (husband Reece) along with his grandchildren Jacqueline, Dalton, Alexandria, Matthew, Kathryn, Tessa and Caroline.