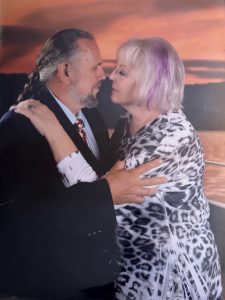 On September 12, 2023, Albert Joseph Suhajda left this world, leaving it a less colorful place without him. He was born on November 14, 1948 in Los Angeles, California, and lived for 74 magnificent years.
His paternal grandparents emigrated to the US from Hungary and he was proud of his Hungarian heritage. He visited Hungary for the first time in May of this year, which he was super happy and excited about. He had two brothers and three sisters: Bob, Michael, Rosemary, Martha, and JoAnne.
He grew up in Los Angeles, but after graduating from Junipero Serra High School in 1967, he decided to join the Air Force instead of going to college. After Basic training, he was quickly deployed to Vietnam where he served two tours. Albert loved the military and flew all over the US as a flight engineer.
After meeting his wife Paula in 1974, he decided to retire from the Air Force in June 1975. They got married in October 1976 and were married for 46 joyful years. His sons, Gene (wife Verla) and Justin (wife Myriah), and grandchildren Dylan, Madelyn, and Hailey) always just saw him as a second father. The twins Madelyn and Hailey were born on Albert's birthday, which made him super proud. He loved sports and was always looking forward to his grandson's soccer games.

During his lifetime, Albert worked as an auto mechanic, plumber and at McDonald Douglas, he was very proud to have worked as a hydraulic airplane mechanic on the first C17 cargo plane.
While working full-time, he went back to school at Dominguez Hills University and earned a Bachelor of Science degree, with a concentration in accounting. We moved to Arizona in 1993, where he spent the next 21 years working as office manager and CFO at an electrical contractor before retiring in 2015.
Albert had a big personality that could fill a room and he never met a person he did not like…He was a great talker and had many stories to tell. He could strike up a conversation with anyone about anything at any time. He could talk the ears off a brass donkey and often would. He was generous with his time for family, friends, and community. His sons looked to him as a trusted advisor for any type of home project they were doing, and usually, he would selflessly end up doing half of the project himself. If you look inside any of his sons' homes, his handiwork is everywhere. In Arizona, Albert was the first President of his Homeowners Association, he served on the Whetstone Fire Station Board and was President of the local Kennel Club.
Albert's home in Arizona was built on 10 acres and since he was a man of many talents, he did many of the jobs on his own. Albert completed the plumbing, HVAC, roof, and even put up a few of the outside walls. He inspired and taught his sons to become handy and do a lot of their own home projects and repairs (but never as well as him).

Albert loved animals. In Arizona, we had chickens, ducks, turkeys, goats, sheep, a cow, and even a pig. His pride and joy were his Anatolian Shepherd Dogs. At one time he had six Anatolians, a German Shepherd, and two cats. Albert also showed his Anatolians at dog shows and most won their Championship titles. He also served as the Treasurer of the national Anatolian Shepherd Dog Club Association (ASDCA), which he did for three years.

A Celebration of Life will be held on Saturday, September 23, 2023 at 3:00pm at Unity Presbyterian Church Denver, NC. Military Honors will be re served by The United States Air Force Honor Guard.