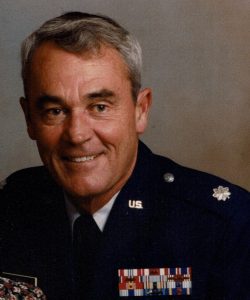 Lt. Col. John (Jack) William May USAF (Ret), 82, of Denver NC, passed away peacefully at home with his wife by his side on Wednesday, April 8, 2020. He was born on February 2, 1938 in New York City, NY at the Misericordia Hospital to the late Peter and Helen (Murphy) May. He was survived by his loving wife of 34 years, Sharon May.
Jack served in the US Air Force for 37 years, retiring as a Lt. Colonel. He was a graduate of the University of Wyoming and Georgia Institute of Technology. He retired in Nags Head, NC and was an active and faithful member in his community and his church, Holy Redeemer by the Sea. Jack was an active man that ran several marathons, enjoyed lounging at the beach, boogie boarding, bowling and doing many other activities with his kids and grandkids. He also volunteered and scuba-dived at the Roanoke Island Aquarium for over 10 years. He was particularly grounded in his faith and he sang Hallelujah when he passed.  Jack was the rock of his family and took great pride in his children, grandchildren and great granddaughter.
He is survived by his wife Sharon; his kids Jackie Atkinson and her husband, Jimmy of Bowie, MD, Sharilyn Cook and her husband Chris of Owings, MD, Jay Wismer and his wife Tonya of Port St Lucie, FL and Lloyd Wismer of Kimball, NE; his two grandkids who he raised Sarah Weatherly and her husband Matthew of Concord, NC and Jay Wismer of Columbia, SC; his grandchildren Andrew Rickers, Michael Atkinson, Mary & Nicholas Cook, Taylor Wismer, Kyle & Corey Peach, Michael, Emma & Rebekah Sposato and one great granddaughter, Katherine Weatherly. He is also survived by his sister Rees Klemish and his nephew David Klemish and his wife Agnes.
He is predeceased by his parents and his lifelong friend, Jack Gibson of North Myrtle Beach, SC.
Funeral service will be held at a later date. The family wishes to extend their thanks to the staff of the Hospice of Charlotte Region and Kim Wilson.
In lieu of flowers, memorial contributions may be made in his honor to ZERO – The End of Prostrate Cancer or in his honor to the foundation of your choice.