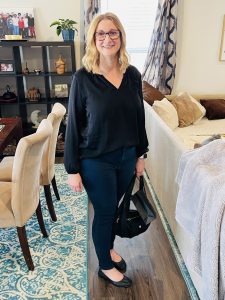 It is with profound sadness that the family of Heather Yvonne Slivka share that she lost her battle with metastatic melanoma cancer on February 18, 2023 at the age of 48.
Heather was born on May 19, 1974. She graduated from Toms River High School North in 1992, earned a Bachelor of Science from West Virginia University in 1996, and a Master of Education at Virginia Tech in 1998. She remained at Virginia Tech through 2001, where she worked as a nationally certified athletic trainer. Heather then worked at Episcopal High School in Alexandria, VA as an educator and head athletic trainer for 17 years. Most recently, Heather and her husband Brandon resided in Denver, NC, and she was employed by Marpai, formally Maestro Health, as a care coordinator and certified health coach from 2018 to present.
Heather is survived by husband Brandon Partee, stepchildren Julia and Braden Partee, mother-in-law Paulette Summers, parents William and Marsha Slivka, sister and brother-in-law Jennifer and William R. Cawthorne, nephews William P. and Matthew Cawthorne, and many aunts, uncles, and cousins.
A private remembrance celebration of Heather's life will be held by her family at a later date. Heather was the light of our lives, our very own Wonder Woman.
In lieu of flowers, donations in honor of Heather's life may be made to the AIM at Melanoma Foundation. (www.aimatmelanoma.org)