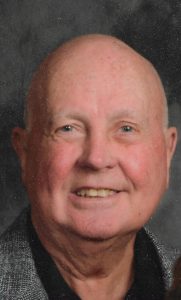 Harold Rex Mason, aka "King Rex", passed away on August 3, 2023 at Levine and Dickson Hospice House in Huntersville, NC. He was born on August 15, 1944, in Washington, DC.
Rex, who had a natural talent and voice for broadcasting, started his career in TV and as a radio DJ.  He loved doing the nightly TV news, playing loud music, and spinning records.  He was a member of AARL Ham Radio Club, attending every Ham Fest that he could.  He later opened Mason Electronics where he bought, sold, repaired, and traded CB's, ham radios and most other electronic equipment. 
He loved to travel with his family no matter where, as long as he was on the go.
Rex was a member of Westport Baptist Church Jolly Senior Class.
He will be greatly missed by all who knew and loved him.
Rex was preceded in death by his son, Brian Mason, mother Nora Mokry; stepfather, Bill Mokry; father, Harold Mason and brother, Gary Blevins.
Left to cherish his memory are his loving and devoted wife of 56 years, Cindy Mason; sons Kevin (Tracie) and Chad Mason; grandsons Gage and Landon; beloved dogs Cocoa and Griffin and numerous extended family members.
Family will receive friends on Saturday, August 12, 2023 from 2:00 PM to 2:30 PM. at Westport Baptist Church (corner of Business Highway 16 & Lakeshore Road South) Denver, NC. Funeral Service will follow at 2:30 PM. Burial will follow in the church cemetery.
In lieu of flowers memorials in Rex's memory may be made to Westport Baptist Church, Denver NC, or Levine & Dickson Hospice House, Huntersville, NC.