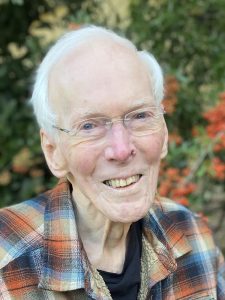 Gerald Hamilton, 94, of Denver, NC, passed in the early hours of Aug. 4, 2023, surrounded by family.
Born on Nov. 22, 1928, in Woodsfield, OH, he was the son of the late Hilda Lucetta Hamilton.
Gerald was educated at Woodsfield High School, The Ohio State University in Columbus, and Coyne Electric in Chicago. He served proudly in the U.S. Army during the Korean Conflict.
On Sept. 5, 1951, he married Lorna Lea Litten of Woodsfield. They settled in Marietta, OH, and then Belpre, OH. He was a proud member of the International Brotherhood of Electrical Workers and put his skills to use also in service to Belpre Congregational Church and in installing Belpre's annual Christmas light display. Later in life he took up stained glass art and crafted many beautiful items.
Besides his mother, Gerald was preceded in death by his beloved wife, Lorna in 2012.
He is survived by two daughters, Kim (Tom) Mennillo and Carey (Robert Brown) Hamilton, both of Denver, NC; three grandchildren; and four great-grandchildren.
Graveside service with Military Honors will be held at 10 AM. on Tuesday, August 8 at Unity Presbyterian Church in Denver, NC.