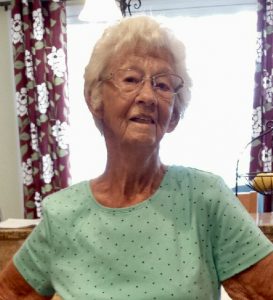 Gloria McKinnon Barber, age 99, passed away peacefully on August 16, 2022 at The Wexford House Assisted Living in Denver, NC.  She was born April 6, 1923 in Limestone, Maine to Roy and Winnie Downing. She married Grover McKinnon on August 10, 1947 who preceded her in death in 1979. On April 30, 2000 she married Malcolm R. Barber who preceded her in death on April 14, 2009.
Gloria loved to love on people. She taught Children's Worship for many years with her husband Grover. They also loved to serve in the church kitchen cooking meals for large events. She had a love for sewing that began as a young girl by her mother's side. This developed into a lifelong passion as she became a skilled seamstress. She made countless quilts and gave many away to those she loved. Gloria was a great, animated Bible story teller and would go with her husband Mal to the local nursing home in Florida to share with them about Jesus. In recent years, she continued to be a light to all who knew her at The Wexford House. She would often lift her hands in praise while singing her favorite hymn "Love Lifted Me."
Her life was a living example of Ephesians 4:32 – "And be kind and compassionate to one another, forgiving one another, just as God also forgave you in Christ."
Gloria is survived by her children Sandra McKinnon, Bruce McKinnon of Crystal Falls MI, Lori (Gary) Wold of Stanley NC; 6 grandchildren; 6 great grandchildren; and step-children, Penny Daam, Melanie Benefiel and Paul Barber.
Thank you for your thoughts and prayers. The family will celebrate her life privately.
Memorial donations may be made to her granddaughter, Kellie Weed's ministry in Honduras – www.Cultivate-Life.org.