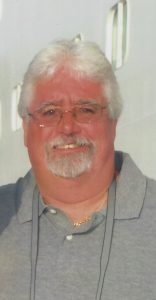 Gary Franklin Godfrey,( "Frank") 65, of Maiden passed away on July 13, 2019. Gary was born on August 1, 1953 in Rock Hill, South Carolina. He attended Fort Hill High School. He loved his motorcycle, yard work and his lawnmower.
Gary is survived by his wife, Karen; son Kevin Godfrey and his wife, Carol of Monroe; grandchildren Olivia Chappell, Malachi Godfrey and Liam Godfrey;  sisters Terri Taylor and husband, Neal of Denver, Cissy Flynn and husband, James  and Cassie of Denver and Tina Holder of South Carolina; nephew Chris Freeman and wife, Crystal and Camden
Family will receive friends from 1:00 PM to 2:00 PM on Thursday, July 18, 2019 at The Good Samaritan Funeral Home 3362 North Highway 16 (Business) Denver, NC. Pastor Johnny Houser of Denver Wesleyan Church will officiate.