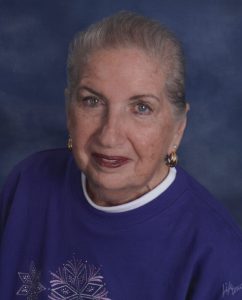 Josephine Marie Thill Keene, 84, of Denver, NC. lost her battle with cancer on June 29, 2019 at Robin Johnson Hospice House in Dallas, NC.
Born on November 8, 1934 in Omaha, Nebraska, she was the daughter of the late Joseph and Ida Mandina Thill and sister to the late Rick Thill, all of Omaha.
Jo earned a business degree. After working in several venues, she began working in the office of the Cornhusker Sales Distributorship of Tupperware in Omaha. After seeing the successful dealers and managers, she exclaimed, "I can do this!" She thrived in this environment and became so successful, she earned the title of Distributor and was transferred to the Tupperware area in Paducah, Kentucky. She continued to grow her business and earned the chance to become a distributer in a larger distribution area. In December, 1969, she and her husband, Robert Bundy and her 2 sons moved to Charlotte, NC. During her time in Charlotte (1987), she won the highest award Tupperware Distributors can earn, known as the Ad Aster Award for her accomplishments. It is now housed in the Tupperware Heritage Center in Orlando, Florida.
Besides her parents and younger brother, Jo was preceded in death by her husband, Thomas B. Keene, Jr.
Jo is survived by her two sons, Robert L. Bundy of Charlotte, NC. and Patrick J. Bundy (Barbara) of Belmont, NC. She is also survived by 6 step-children; Connie K. Redus of Denver, NC., Sherry Brown of Lacy, Wash., Michael Keene (Cindy) of Raleigh-Durham, NC., Debbie Baucom (Bo) of Matthews, NC., Patrick Keene (Kimberly) of Salisbury, NC. and Teresa Chelko (Kevin) of Huntersville, NC. There are also 12 grandchildren and 18 great grandchildren to celebrate her life and mourn her death.
A Funeral Mass will be celebrated at 11:00 AM on Saturday, July 13, 2019 at Holy Spirit R.C. Church 537 North Highway 16 (Business) Denver, NC. 28037. Rev. Carmen V. Malacari, Pastor, will be the celebrant. Members of the Holy Spirit Council – Knights of Columbus will participate. The family will receive friends just prior to the Funeral Mass in the church and following the Funeral Mass in the Parish Activity Center.
The family requests in lieu of flowers, donations in Jo's memory can be made to: Holy Spirit Council – Knights of Columbus Operation Lamb Program, Robin Johnson Hospice House 5005 Shepard's Way Drive Dallas, NC. 28034 or the Holy Spirit RC Church Building Fund 537 North Highway 16 (Business) Denver, NC. 28037.
The Good Samaritan Funeral Home of Denver, NC. is serving the Bundy / Keene Family.