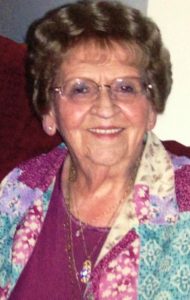 Patsy Ruth Black Bangs , 92, of Denver formerly of Huntersville passed away on Tuesday, July 23, 2019 at Novant Health – Huntersville Medical Center.  Patsy was born on February 27, 1927 in Henrietta, Oklahoma.
She was preceded in death by her husband, Bolton.
Patsy is survived by her brother, Dewey Black, son, George Bangs, daughter, Cathy Greisinger, son, Mark Bangs, daughter, Debbie Thompson, 7 grandchildren and 9 great grandchildren.
Graveside service  Tuesday, July 30 at 11:00 AM at the Salisbury National Cemetery.
In lieu of flowers donations in Patsy's name can be made to OneHope 600 S W 3rd St. Pompano Beach, FL or at OneHope.net