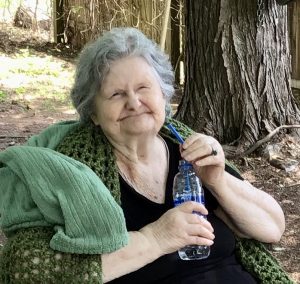 Elizabeth Ann Geckler, 88, of Denver went home to the Lord on July 2, 2020, surrounded by light and love after a brief battle with colon cancer.
Born on April 3, 1932 to the late John Murtha and Helen Murtha (Bowers) in Philadelphia PA.
Betty grew up in Philadelphia. She  spent her married years in Browns Mills, NJ and her retirement years in Bonita Springs, FL and Denver, NC. She was a devoted wife, mother, grandmother and great grandma (GG). She loved family, dancing, singing, all things Ireland, travel, and collecting lighthouses where ever she went. Just like a lighthouse she stood alone as the matriarch of the family, she was our light and beacon home.
She was preceded in death by her husbands, first Robert Bond and second Andrew Geckler; daughters, Frances Tegtmeyer, Annette Grover and husband John Grover, Grayce Sousa and husband Jeffrey Sousa, Grandson Jeffrey Sousa, Granddaughter Casey Sousa.
Survivors include her sons, Daniel Bond and wife Catherine, John Bond, Michael Bond and daughter Elizabeth Basler and husband Robert Basler; grandchildren Robb Crocker, Jennifer Oehlert, Patricia Bond, Pamela Todd, Robert Bond, Danielle Bond, Joe Grover, Jeremy Grover, Alex Grover, Michael Grover, Liza Ann Basler, Nathaniel Basler and Ryan Sousa; great-grandchildren Samantha (Alyin) Milia, Angelo Crago Jr, Cameron Oehlert, Caden Oehlert, Christian Oehlert, Ian Todd, Oliver Todd, Julian Grover, Brody Grover and Devon Basler.
A graveside service will be held privately in New Jersey along with a celebration of life and light at a later date.
Memorials can be made to Hospice & Palliative Care Lincoln County, 900 Donita Drive, Lincolnton, NC 28092hpccr.org
The Good Samaritan  Funeral Home is serving the Geckler Family.