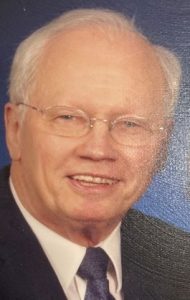 On January 22, 2023, Donald James (Jim) Stringfield, 90, of Denver, North Carolina, formerly Muncie, Indiana, entered the presence of Jesus Christ. Jim was born August 12, 1932, in Cincinnati, Ohio, to the late Charles Virgil and Bonnie Stringfield. He was preceded in death by his wife of 63 years, Barbara.
Jim graduated from Vevay High School in 1951 and Indiana University in 1955, after which he was 1st Lt. in the US Army as General's Aide-de-Camp. Later, Jim enjoyed a long career selling home insulation. In 1967, he and wife Barbara were founding members of Westminster Presbyterian Church, Muncie, Indiana; he was Elder Emeritus and known for hospitality, optimistic humor, and grilling cuisine. In Denver, he was a member of South Lake Church PCA.
Jim is survived by children: Gregory (Isabelle) Stringfield of Denver, North Carolina; Kimberly (Brian) Erwood of Indianapolis, Indiana; and Karen (Steve) Singleton of Denver, North Carolina; and four grandchildren: Joshua, Sarah, and Joseph Erwood; and Jacob Singleton. 
A Celebration of Life reception will be held 1:30-3:30 pm, Friday, March 31, at Unity Presbyterian Church, 8210 Unity Church Road, Denver. Memorial contributions may be made to Unity Presbyterian Church.
A Military Honors Ceremony will be held Friday, April 21, at 2:00PM at Crown Hill National Cemetery Columbarium, Indianapolis.
A Celebration of Life service will be held 4 pm, Saturday, April 22, Westminster Presbyterian Church, 2801 W. Riverside Avenue, Muncie, IN; visitation from 2-4 pm.
Memorial contributions may be made to Westminster Presbyterian Church.