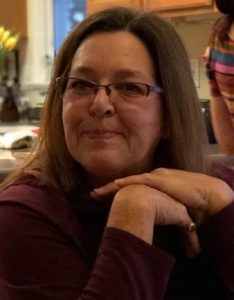 Amy Jo Parker passed away at home, surrounded by her family, on March 17, 2023. Born in Greensboro, North Carolina, on May 13, 1961, she was the daughter of JoAnn Hundley and the late Oris Lester Parker.
Amy is survived by her daughter Kaly Crump; mother JoAnn Hundley and stepfather Joseph Kirstein; brother Nick Parker and his wife Donna Parker; sister Margaret Hundley Parker and her husband David Hollander and their children Lily and Percy Hollander Parker; many loving aunts, uncles, cousins; and sweet Darla and Daisy.
Amy loved her family, the beach, and motorcycles. She was an elite musician who could go from playing Beethoven to Jethro Tull without missing a beat. Amy worked in the business side of publishing for over twenty years. Anyone who knew Amy was spoiled, yet she was fiercely independent. She will be fiercely missed.

Amy lived in Denver, North Carolina, for many years.
Family will receive friends from 1-2PM with a Celebration of Life service to follow at 2:00PM on Saturday March 25, 2023 at The Good Samaritan Funeral Home Denver, NC.