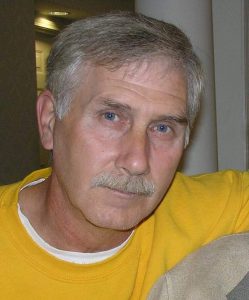 Derrick Dale Cooper Sr., 65, of Denver, NC. passed away on June 12, 2020 at Catawba Valley Medical Center in Hickory, NC.
Born on July 1, 1954 in Syracuse, NY., and raised in Memphis, NY; he was the son of the late Orrin Clifford and Frances Ethel Magee Cooper.
Derrick was a graduated of BOCES Vocational School.  He went to work for Goodyear Automotive Group, then onto Sears Automotive Group as a mechanic.  Upon moving to North Carolina, he started working for Dale Earnhardt Automotive Division as a Service Manager. He was a member of Dale Earnhardt Sr. Pit Crew. He also worked for Arnold Palmer Automotive Division and he ended his career at Serv Pro as a Crew Chief. 
Derrick enjoyed watching races, Carolina Panthers games, having their gift shop yard sales, playing games on his tablet, watching movies at night, and he loved the people he worked with.
Besides his parents, Derrick was preceded in death a grandson.
Derrick is survived by his sons, Derrick Cooper Jr., of Maiden, N.C. Adam Cooper of Maiden, N.C.; daughters Jami Lyn (Justin) Blalock of Maiden, N.C., Heather MacIntyre, of Auburn, N.Y. and Melissa Cooper of Statesville, N.C.; brothers Dennis (Betty) Cooper of Crossville, TN., Orrin Cooper of Palatka, FL., Glen (Patricia) Cooper of Liverpool, N.Y., Gary (Raluca) Cooper of Warrensburg, N.Y.; sisters Deborah (John) Daniluk of Butler, PA. and Fran (Kevin) Feint of Fort Lawn, S.C.; ten grandchildren and five great grandchildren; numerous nieces and nephews, great nieces and great nephews and many cousins.
Funeral services will be held at a later date in Denver, NC. and New York.
The Good Samaritan Funeral Home in Denver was honored to serve the Cooper Family.