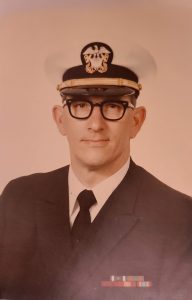 It is with great sorrow that we announce the passing of Michael P. Ansich, Jr. He was born March 1, 1942 and raised in Highland, Indiana and passed away on December 14, 2022 in North Carolina surrounded by family.
He is preceded in death by his parents Michael Ansich, Sr., his mother Ann (nee, Galinac) his sister Carole Mireault and his brother-in-law, Rodney Mireault.
He is survived by his loving wife, Mary J. Ansich, and son Michael P. Ansich, III (wife, Amy).
Michael was retired from the Navy after 26 years of distinguished service.
A viewing will be held from 1:00 PM to 3:00 PM followed by a memorial service officiated by Pastor Jeff Bates at the Good Samaritan Funeral Home, Denver, NC. on Thursday, January 5, 2022.  A funeral mass will be celebrated on Friday, January 6,  2022, at 11:00 AM at Holy Spirit Roman Catholic Church, Denver, NC.
His final resting place will be Arlington Cemetery, Washington, D.C. where he will be honored with a special military ceremony sometime in the spring of 2024.
In lieu of flowers the family has asked that you please donate to the Disabled American Veterans (DAV.org) or Tunnel to Towers (t2t.org). His son's company, VMware, EUC PS Leadership Team has graciously offered to match all donations. If you wish to donate please visit: www.brightfunds.org/funds/in-memory-of-michael-paul-ansich-jr-1942-2022