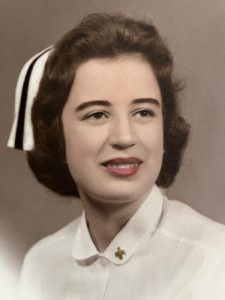 Rita Ragina Hinkle, aged 83 years, passed away peacefully on December 31, 2022 under the care of the angelic staff of the S. Mitchell Mack Hospice House in Mooresville, NC.

Rita was born in Valley Stream, Long Island on March 6, 1939 to Michael Ragina and Elly Hedwig Kroeck.
Rita graduated from Mary Hitchcock Memorial Hospital School of Nursing in Hanover, NH in 1959 and practiced nursing until she was married and then became a full time Mom once her children were born. She enjoyed helping and caring for others, always toting her kids to various events.
Once her children were grown, she and her husband relocated from Lexington, NC to Plano, TX. Rita formed many long lasting friendships while in Texas and just recently moved back to NC on July 13, 2022 to be closer to family.
Rita was predeceased by her parents, and her husband Stoney G. Hinkle.
She is survived by her daughter Tanya H. Bruzek (Dan) of Denver, NC; and her son Michael R. Hinkle (Michelle) of Cary, NC.
 Visitation and Memorial Service will be held at 11:00am on Saturday, January 14, 2023 at The Good Samaritan Funeral Home in Denver, NC. 
In lieu of flowers, please give a gift of joy to someone you love. Memorial contributions may be made to Hospice & Palliative Care of Iredell County (www.HOIC.org).