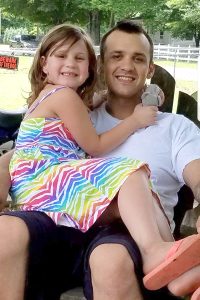 Corey Andrew Zimmermann, of Denver, NC, passed away unexpectedly at his home on Tuesday, September 12, 2023.
Corey was born to Raye Proctor Lunceford and David Zimmermann, Sr. on May 9, 1989, in Lincolnton, NC. He is preceded in death by his maternal grandparents, Ivey and Cecil Proctor; paternal grandparents, Essie Grass and Donald Zimmermann; step-grandfathers, Duane G. Grass and John K. Johnson, Sr; his aunt, Melanie Rosa Grass; and his uncle, Avery Jones.  
Corey graduated from East Lincoln Sr High School in Lincolnton, NC, and worked in the furniture industry. He loved being with his family, especially his niece, Liliana Bentley. He was her best friend and they were always having fun together. Corey enjoyed music, video games, watching documentaries, and walking in the woods. He was teaching himself how to play guitar with a little help from his dad. Always willing to lend a helping hand, Corey helped his family with odd jobs around the house. His mischievous smile, practical jokes, and the hugs he gave everyone when he came to family gatherings will be dearly missed.
In addition to his parents, Corey is survived by his children, Carson, Layne, and Zoey Zimmermann; his sister, Haley (Casey) Bentley of Lenoir, NC and brother, David Zimmermann, Jr of Denver, NC; his half-sister, Maurissa (Nathan) Kish, of Winston-Salem, NC; and his step-sisters, Catie (Justin) Lawson, of Hickory, NC; Lauren Huffman, of Gastonia, NC; and Sallie (Johnny) Arias, of Sterling, VA; his step-father, Brian Lunceford of Denver; his step-mother, Melanie Johnson Zimmermann of Hickory, NC; his maternal aunts, Theresa (Ned) Hammitt, of Denver, NC; Robin (Keith) Dixon, of Kings Mountain, NC, and Debra (David) Stallings of Newton, NC; his paternal aunts, Carol Zimmermann and Debbie Zimmermann Czerniak of Chicopee, MA;  step-aunt, Leanne (Greg) Lunceford of Lincolnton, NC; step-uncle, Ken (Heidi) Johnson of West Lafayette, IN; step-grandparents Charlie and Barbara Lunceford of Iron Station, NC; and step-grandmother, Olive Johnson of Newton, NC. He is also survived by numerous cousins, nieces, nephews, and his best friend and constant companion, his dog Diesel.
The family will host a Celebration of Life Drop-In on Saturday, September 23, 2023, from12:00PM to 3:00PM at Pearl Baptist Church in Iron Station, NC. In lieu of flowers, the family requests donations for Zoey Zimmermann's education fund which can be made here https://www.gofundme.com/f/zoey-zimmermanns-education-fund